ESGF Datanode
The Swedish ESGF datanode is hosted at NSC. The established ESGF service is the product of a long lasting and close collaboration between NSC and SMHI. This collaboration gathers experts from data node administration, software developers, climate data experts and scientists to operate the service and publish data on this resource. The datanode is available at http://esg-dn1.nsc.liu.se. It hosts multiple terabytes of climate data of two different types:
For any queries that you may have pertaining to this datanode or accessing the data, please drop a mail to esg-admin@nsc.liu.se
Searching and finding data
If you already have an openid from ESGF, enter the openid in full and click on login.

If you don't have an openid from ESGF, click on 'Register Here' link and fill in your details; you will be provided a new openid immediately.

Login with your new openid.

Cilck on the 'Search' tab, select the project of your choice and use the available search facets to narrow your search to find data that you are interested in.

When you've made your selection, click on the 'Add to Cart' link, to add the datasets to your data cart.

Click on the 'Data Cart' tab, review your selections and click on the 'WGET All Selected' tab, to download a wget script with the selected data.

Run the wget script to download the data.
Signing up for CORDEX data access
In order to download CORDEX data, you need to register for CORDEX data access with your openid. In order to do so, follow these steps:
Clear your browser cache/history completely, close the browser and reopen browser.

Login with your openid on http://esg-dn1.nsc.liu.se/esgf-web-fe/login

Select a CORDEX dataset and add to Data Cart.

Go to the Data Cart and select 'Show Files'

Click on the 'HTTP' tab

You'll be presented with a User Agreement for CORDEX data access.

If you intend to use the data for COMMERCIAL purposes, sign up for the CORDEX_Commercial group and if you intend to use it for non-commercial purposes, choose the CORDEX_Research group and select 'I Agree'

In your home directory, delete the directory called '.esg' and the file called '.MyProxyLogon'

You can now download and run the wget scripts. When prompted to logon with your openid, use your newly registed openid (in full).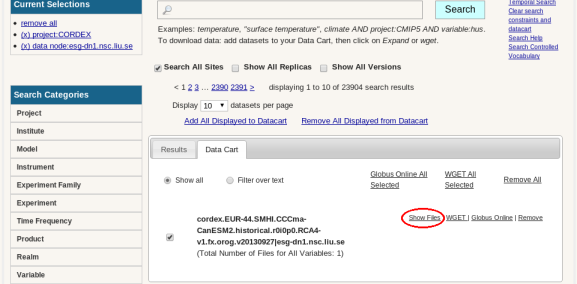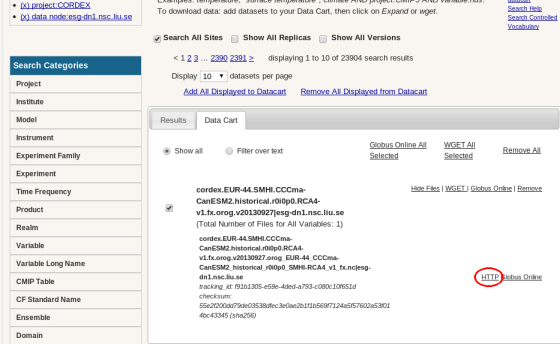 Signing up for CMIP5 data access
The steps to be followed for registering for CMIP5 data access are identical to that of signing up for CORDEX data access, described in the section titled Signing up for CORDEX data access. Select a CMIP5 dataset instead of a CORDEX dataset, and select the correct group and you are done.
Screen grabs: Login and Registration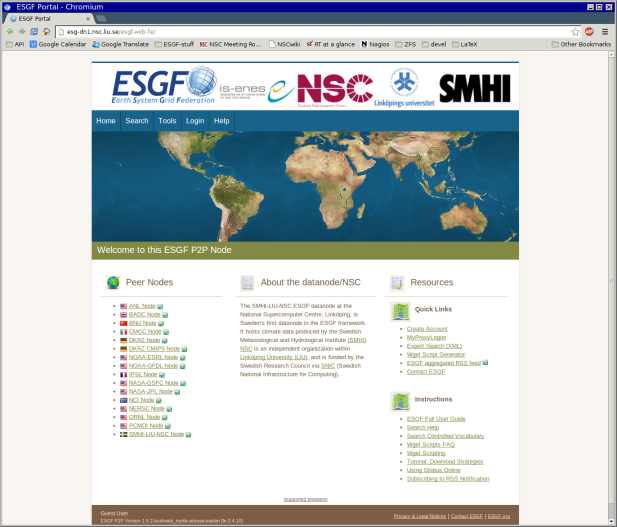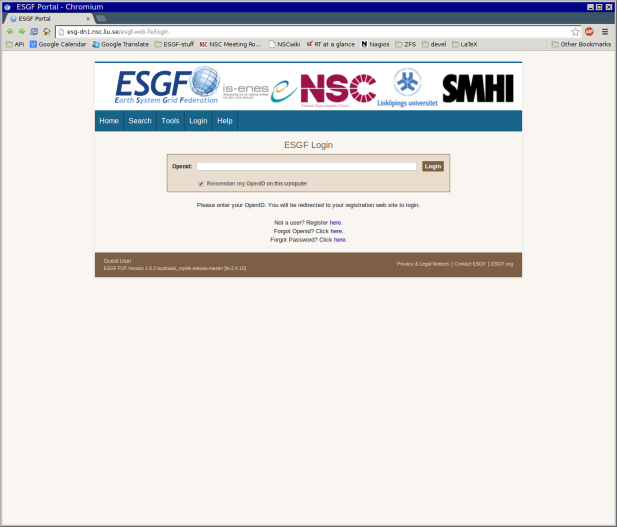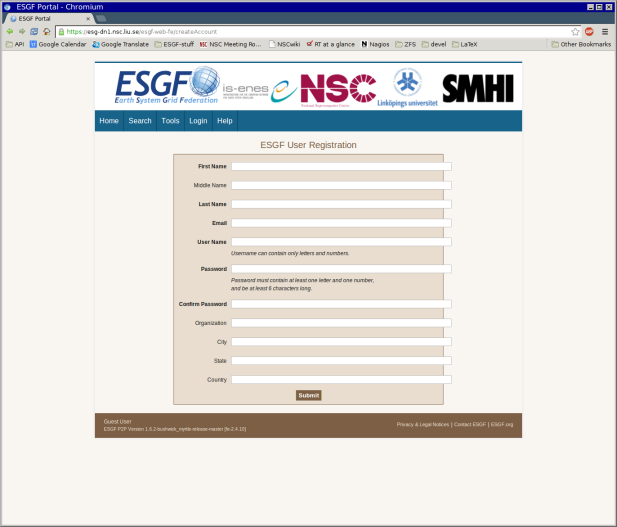 Screen grabs: Finding data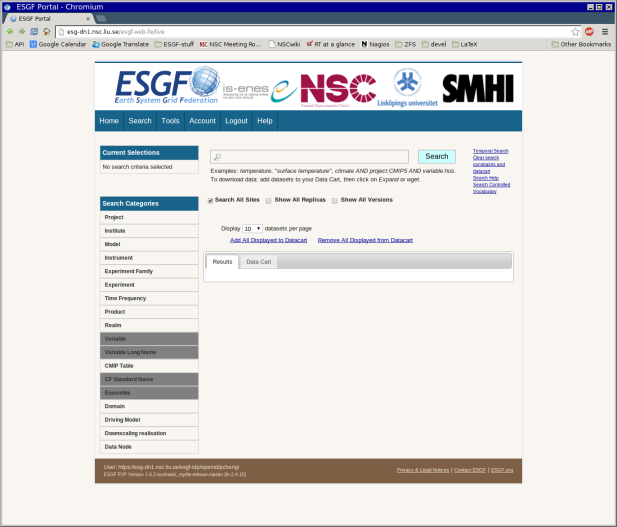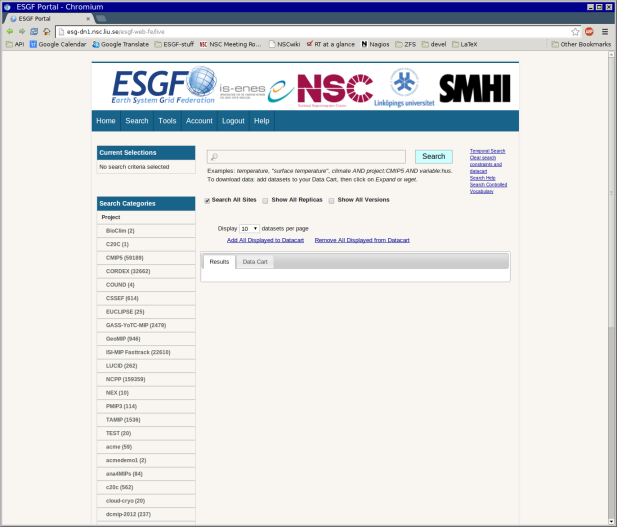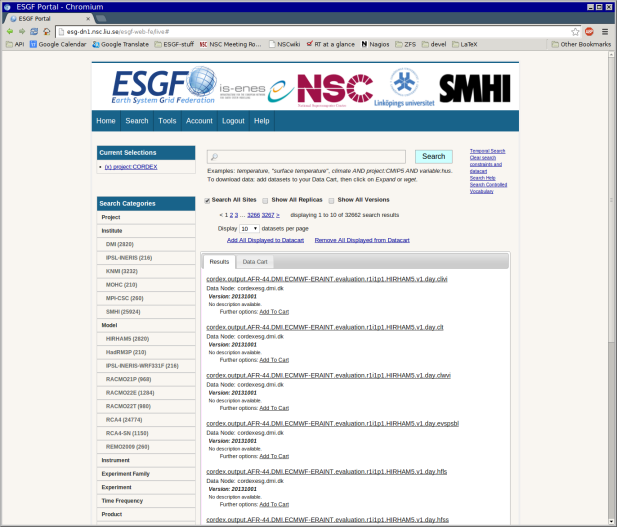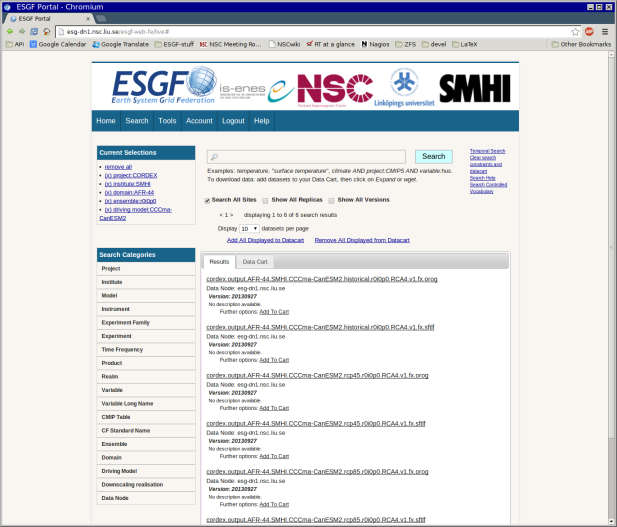 Screen grabs: Reviewing Data Cart and downloading selection