Logistics
The workshop will take place in the auditorium on the first floor in Collegium, Mjärdevi Science Park, next to the Linköping University campus at Valla.
Getting to Linköping
By Car
To get to Collegium, exit the E4 at "Linköping V" and follow directions to Mjärdevi Science Park. See maps below.
By Air
Linköping airport is served by Skyways (partner with SAS). There are flights to and from Arlanda (Stockholm) and Kastrup (Copenhagen). An alternative is Norrköping airport (served by SAS) and then taxi shuttle (book in advance!) or taxi.
By Train
Direct connections with Stockholm, Arlanda and Malmö. (Stockholm - Linköping, 200 km, approx. 1 h 45 min.)
Getting around Linköping
Taxi
Taxi companies in Linköping:
| | |
| --- | --- |
| Taxi Kurir | 013-10 10 00 |
| Taxi 013 | 013-13 99 99 |
| Taxibil | 013-14 60 00 |
The price from the hotels downtown to the University is about SEK 120. VISA & Mastercard are usually accepted.
Local Buses
Bus 202 passes downtown, the railroad and bus station, Linköping University, and Collegium, Mjärdevi.
The relevant bus stops are:
| | |
| --- | --- |
| Trädgårdstorget | Downtown |
| Resecentrum | Railroad, bus station |
| VTI | The university, in the vicinity of NSC |
| Collegium | |
The bus fee is SEK 18.
Money, food and stuff
ATMs
There are ATM machines in many places downtown.
There is one ATM at Collegium, to the right of the main entrance.
At campus, there is an ATM in the Kårallen building, available daytime.
Restaurants
The resturant district is centered on Ågatan, close to Stora Torget (the Main Square). The price for a main course varies between approx. SEK 90 and SEK 220.
Recommended restaurants include Platå and B&K (modern international cuisine), RIVA (American-Italian), Sangria (Portuguese) and Kikko Bar (Japanese-crossover). Restaurang Sture on Sturegatan is located a short walk from central Linköping, but offers excellent food with regional touches and excellent value for money.
There are also several pubs and many cafés in the area.
Cinema
There are two multi-venue theatres downtown, one on Ågatan and one on Stora Torget. Foreign movies are subtitled in Swedish.
Maps
Overview map of Linköping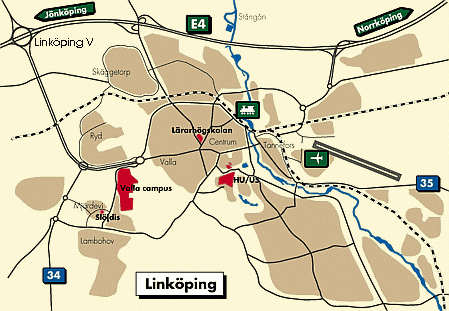 Close-up of Campus Valla and Mjärdevi Science park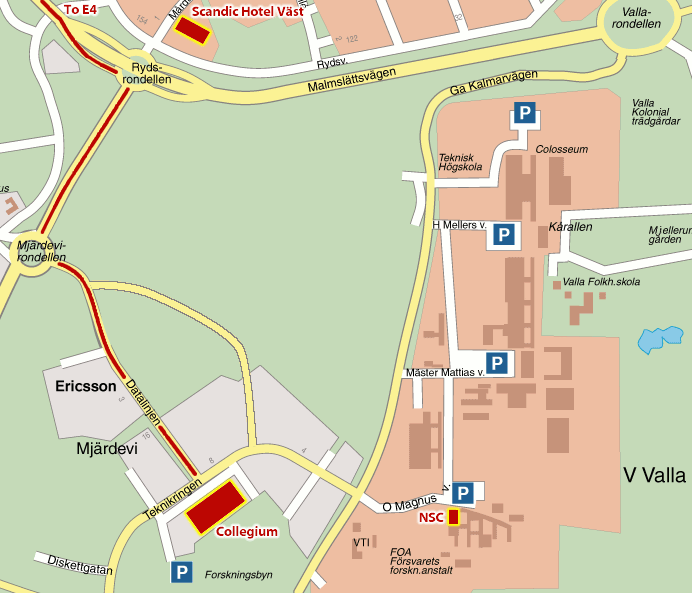 Linköping City